MSB's outreach to young people from across the Tablelands, the Gulf, Cape and Torres Strait has contributed to the College being designated as a school of special character within the Cairns Diocese. Hence MSB is the Cairns Diocese's principal outreach to young people of the Far North's indigenous communities. Yet the Mount St Bernard College literacy and numeracy needs of many of these students are profound; for many, a product of lack of opportunity rather than absence of ability.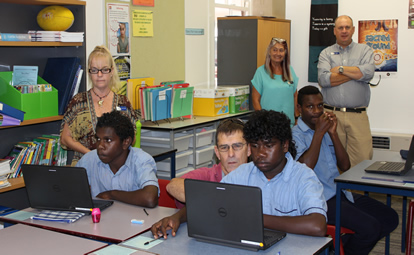 In keeping with the College's commitment to meeting the needs of all its students and assisting them to perform to their highest individual potential, MSB offers a learning program that supports student literacy and so assists indigenous students to transition into mainstream classes.
The accelerated learning program responds to these students' real and pressing needs so that they may develop the literacy and numeracy skills necessary to engage in the curriculum as purposefully as possible.
These specialised classes provide students with stability of location, the comfort and reassurance of routine, and the confidence and dignity of respectful relationships between teacher and student, all intended to facilitate both academic and social transition to mainstream schooling. While focusing primarily on literacy and numeracy, its aim is to rapidly develop a raft of skills that effectively expand the range of choices available to these young people.
See also: