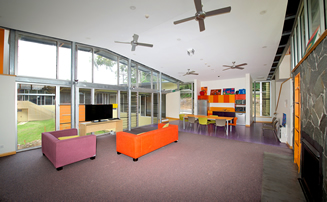 Residential facilities at Mount St Bernard College offer a safe, nurturing and caring environment for girls and boys from many areas across Far North Queensland, the Torres Strait, Tablelands, Northern Territory and beyond who need to be away from home for their education.
Mount St Bernard College can accommodate 170 boarders in contemporary and comfortable facilities. The modern and progressive design of these facilities promotes independent living as part of the educational experience. The design has also taken into account the serenity of the surrounds, to blend with the magnificent old gum trees on the site.

An Orientation program helps new students to settle in to their new surrounds. New boarders and a close family member spend time at the College's boarding facilities before the start of the term. Students have the chance to make new friends and find their way around the College, eating meals in the dining room and sleeping in the dorms. Parents have the opportunity to finalise administration matters and familiarise themselves with the school's facilities and ancillary services. They meet boarding, teaching and tutorial staff and form friendships with other parents and carers who attend.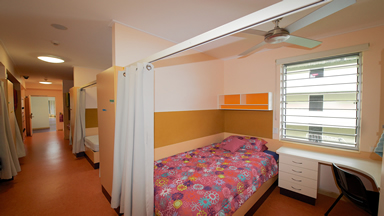 Weekly Boarding
Weekly Boarding is available as an alternative to full boarding. Weekly Boarders must be picked up and returned to the College either by parents or someone delegated in writing by parents or upon arrangement with boarding staff may be permitted to leave by bus. Parents or the nominated person must sign the student out on Friday afternoon at 3.30pm and have them back and signed in by 6.00pm on Sunday evening. There is a reduction in fees for weekly boarding.